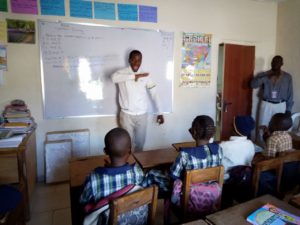 At Foundations Academy, our sign language educator Mr. Abel Dauda, moves from class to class teaching the students basic sign language.
Foundations Academy does not have any hearing-impaired students. However, we decided to teach sign language so the children will be able to communicate with hearing-impaired people when they meet them.
Mr. Abel lost his hearing after an illness when he was about 8 years old. Because he grew up as a hearing child, he is able to speak. He speaks both English and Hausa. When we decided to teach sign language, we deliberately looked for a hearing-impaired educator. We knew that this would force both students and educators to learn sign language rather than simply lapsing into spoken words for ease of communication.
Since we are all still beginners, we often have to rely on written communication with Mr. Abel in order to convey various thoughts. Hopefully in a year or two, that will no longer be the case.
Mr. Abel has a diploma from the University of Jos. He is thrilled to have a job at Foundations Academy. Prior to working with us, the only types of jobs he had were carrying loads for people.
One parent was delighted when her young children came home and showed her the signs they were learning. Her brother is hearing-impaired and her children had never been able to communicate with him before. Now the door has been opened for them to start engaging their uncle in conversation.
Another parent of a two-year-old told the principal that her child is not speaking yet, but now the child is making many different signs in order to express himself. The mother is anxious to quickly learn a little sign language in order to know what her son is communicating about. Children are able to communicate before they can speak. There are a number of books available on teaching sign language to babies.
Perhaps some of our students will grow up to be sign-language interpreters. This is a wonderful skill that can really come in handy.